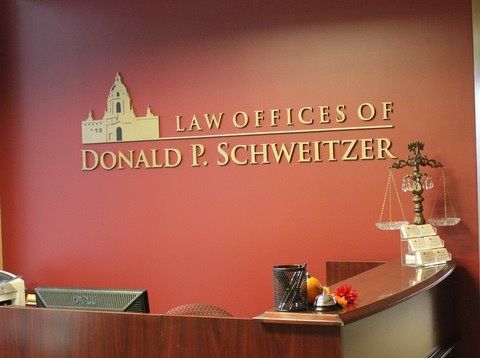 On November 14, 2011 Schweitzer Law Partners opened its doors to a brand new facility, located on the eighth floor of the same building where they have resided for the past eight years (201 S. Lake Avenue, Suite 800 Pasadena, CA 91101). The office is a state of the art facility which will allow staff members to operate more efficiently. After almost a decade of experience in managing and operating a Family Law firm, Donald Schweitzer had the advantage of incorporating all of the things he learned about what makes an office operate efficiently.
One of the features to the new office is the client courtesy desk. Through the years, clients have needed a desk and access to a computer in order to assist in the preparation of their paperwork. Clients who have Family Law cases, especially those who are going through a divorce have to prepare financial documents (called Declarations of Disclosures). In addition, a lot of evidence that is used in court is found via the Internet. The new courtesy desk will provide clients a safe and comfortable place where they can take their time in gaining access to their accounts and retrieving documents.
The new office also has additional space for Attorney Heidi Bitterman, who offers estate planning services to clients. Heidi Bitterman, who has been practicing estate planning for years and is well known throughout Pasadena, began work with the firm on opening day.
The law office has also upgraded its computer and phone systems. In addition, a large conference room was built so that attorneys can comfortably meet with clients, conduct depositions, and participate in settlement conferences.
Making the move took a great deal of time and effort. It took nearly a year to negotiate a lease with the owners of the building and then several months planning and creating the site so that all of the firm's unique needs were met. To assist in designing the office space to suit, Gail Jamentz of Soul Interiors Inc. was hired. Ms. Jamentz participated in planning and design of the new space from the beginning. In the end, the attention to detail paid off, as it produced a beautiful office environment for staff and clients. Our office staff has been energized by the move and we believe our clients will be better served.