Estate Planning Attorney in Pasadena
Safeguarding Your Future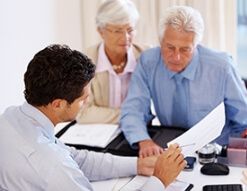 Wills and estates are uncomfortable subjects, however, effective preparation at this time ensures the administration of your estate will run smoothly following your passing. It's your only guarantee that your property will be distributed according to your wishes in a timely manner.
Our lawyers can help you create an estate plan that's perfectly tailored to your wishes. As your circumstances change over the years, we will regularly review your estate plans to ensure they're up-to-date and meet your current needs. We can help your family avoid a protracted and frustrating probate process where asset distribution, tax issues, and other considerations are in the hands of a probate judge who won't necessarily put your family's best interests first.
Customized Planning: A Schweitzer Advantage
We've worked with all types of individuals and families in planning for the future. Employing a client-focused strategy, we'll evaluate your particular circumstances to create the ideal plan for you. We take a personal approach to these matters and we pride ourselves on our professionalism. We are detail-oriented and committed to upholding our fiduciary duties throughout the process.
Trust Schweitzer Law Partners for all your estate planning needs. We are AV® Rated by Martindale-Hubbell® and have been featured in the 2009–2012 editions of Pasadena Magazine's Top Attorneys.
Contact us today for a no-obligation consultation to discuss your estate planning. The sooner it's handled, the sooner you can protect your family's financial future.
Estate Planning Cases We Handle
When it comes to estate planning, the first and most important thing an individual can do to prepare for the future is to draft a detailed and comprehensive will or trust. Wills are often enough for individuals who have a smaller estate. All that is necessary is to designate who they want to leave their estate to and to designate an estate administrator to distribute their property after their death. For individuals with larger estates, a living trust may be extremely beneficial.
Living trusts allow the estate owner or "trustor" to place their estate under the responsibility of a trustee. This trustee will manage the estate while the trustor is living, as well as after they pass away or until the estate is distributed. A beneficiary could also be named who will come into the estate at a future date, such as when the trustor dies and/or when he or she turns 18. Living trusts are the only way to avoid probate and estate taxes, since the entire estate is passed into the hands of another individual.
Along with helping clients draft wills and trusts, we are also experienced in the following:
Our lawyers are committed to upholding fiduciary duty – we will make sure that your estate is distributed according to the terms of your will or trust. We will also handle your estate to your greatest benefit or that of the beneficiary. Our team is also experienced and knowledgeable in probate law and can help you determine whether or not probate is right for you.
Contact a Pasadena Estate Planning Lawyer Today
The Schweitzer Law Partners is more than capable of achieving the best possible results for your estate planning case in a quick and professional manner. We are Pasadena's premier law firm and are one of the most respected firms in Los Angeles County.
Our attorneys have been praised as approachable, welcoming, responsive, and compassionate and will go the extra mile to obtain a favorable outcome. Let us help you make an educated decision regarding estate planning by calling today for a consultation. By speaking with a Pasadena attorney from our firm, you will be able to get the answers you need to prepare your estate for the future.
Our Clients Share Their Stories
"If I ever need legal advice in the future, I would definitely ask Anthony for assistance!"

- M.T.

"Never before have I met such a wonderful, dedicated, and hardworking team of individuals."

- E.R.

"I appreciate all of the firm's time and effort on my behalf."

- L.S.